The latest BMW 4 Series has retained a place to be a benchmark setter for a segment that has somewhat been pushed to the back by overshadowing crossover utility vehicles. However, BMW has managed to keep the luxury sports coupe and convertible segment thriving from forward-thinking tech, somewhat controversial styling, and a unique driving dynamic that properly fits "The Ultimate Driving Machine" motto.
Continuing from my previous review of the new 2021 BMW M440i xDrive, I get the convertible version for a week of top-down fun even in the cooler north Florida weather. Powering the BMW M440i Convertible in the rear-wheel-drive configuration is a newer take on the 3.0-liter inline-6-cylinder engine that brings a mild hybrid setup to the table. Such a setup produces a healthy 382 horsepower and 369 lb-ft of torque with an added 11 horsepower from the 48-volt mild-hybrid system that aids throughout the wide powerband. Power in my M440i Convertible test vehicle sent through an 8-speed automatic transmission and to the rear wheels coupled with an M Sport Differential, which is a limited-slip diff that is electronically activated.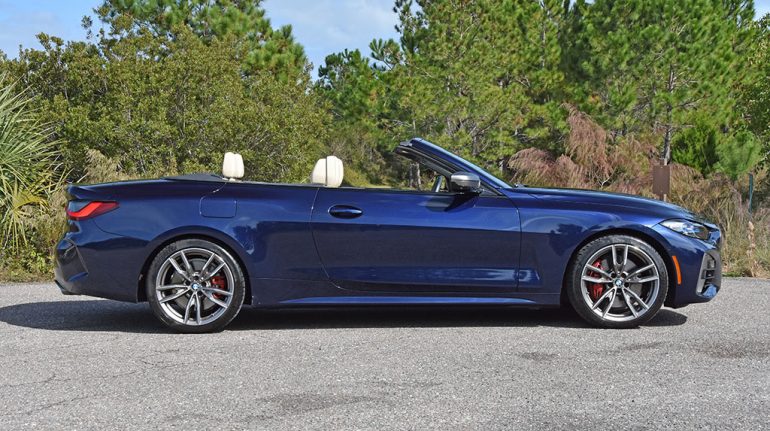 See Also: 2021 BMW M440i xDrive Review & Test Drive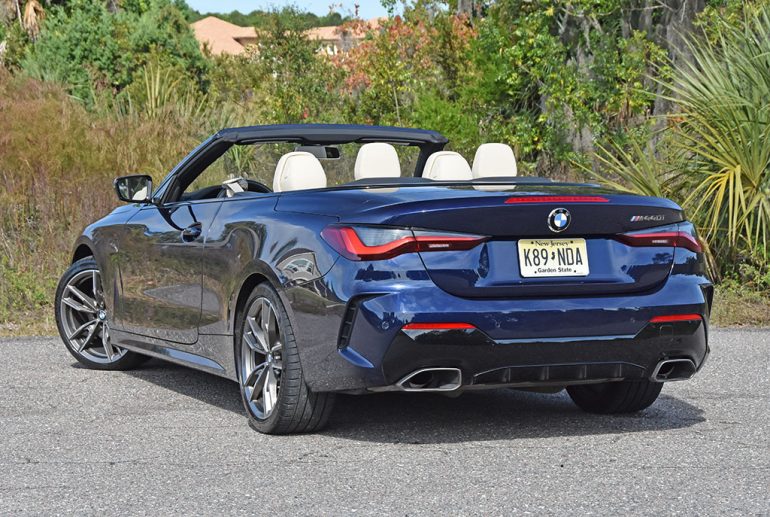 The M440i Convertible feels just like its coupe sibling but has a little bit of extra weight to carry around. Although, that extra weight isn't really felt, which is an attribute to the dynamic handling package that adds the 19-inch staggered size wheels and Michelin Pilot Sport 4S tires along with having the adaptive M suspension system that feels quite compliant with just the right dampening in either its default normal Comfort setting or Sport drive mode settings.
Overall, the performance is excellent, but it is about a half a second slower to 60 mph than the all-wheel-drive M440i xDrive Coupe that I reviewed a few months ago.
The M440i Convertible is unmistakable BMW. From the controversial look of its front grille to the unique LED lighting expressions in the front and out back. The overall style of the new 4 Series Convertible looks good except for the grille, which may be a welcomed and acquired taste for some.
Inside of the new BMW M440i Convertible is a cabin that is identical to that of the coupe that I previously reviewed. The only differences are the soft convertible top that can be operated at speeds up to 31 mph only taking just 18 seconds to open or close, and a clever neck warmer that pumps out adjustable warm air from the bottom of the headrests. The front heated and ventilated seats are comfy and provide an extended distance for adjustments forward and aft making them accommodating for most sized adults. The rear seating area is surprisingly useful for two adults but can be cramped if the front seats are adjusted too far back.
The iDrive system, as mentioned in my M440i xDrive Coupe review, has managed to be subtly updated to provide a comprehensive infotainment system that has just a short learning curve but a welcomed redundancy of control interfaces, including an iDrive controller and a 10.3-inch touchscreen. Wireless Apple CarPlay and Android Auto integration is included.
In the scheme of luxury sport convertibles, there aren't many to choose from – especially convertibles that have the sporty driving dynamics of the BMW M440i. With such, the pricing of the new BMW M440i Convertible is yet another reminder of its uniqueness that hopefully justifies the $74, 870 price of my test vehicle that's decently equipped but has room for an additional option package and a few standalone features. The new 2021 BMW M440i Convertible starts at $64,000 before any destination fees or options.