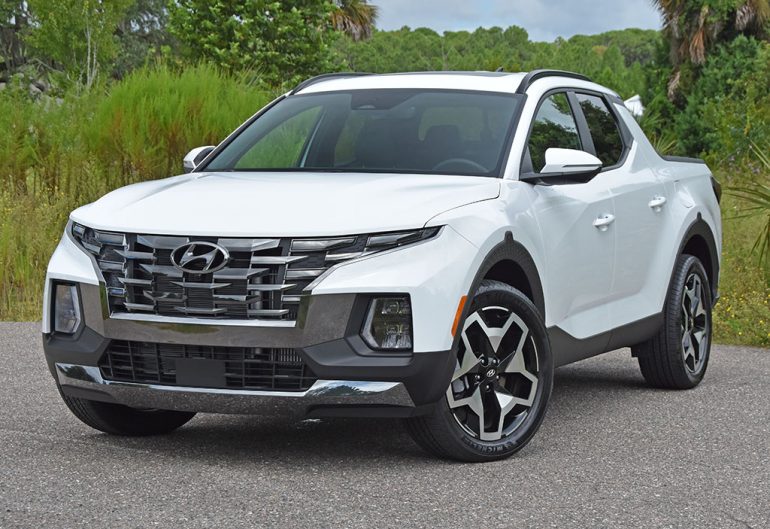 It isn't that often that I find myself driving a vehicle and completely forgetting what it looks like behind the c-pillar, especially one that looks like a truck. This week, the all-new Hyundai Santa Cruz has graced my garage and taken me for a ride that was not at all what I expected it to be. That's not to say the ride was bad. In fact, it was one of the best riding vehicles in its price range this year that I've' experienced, which is surprising because the Santa Cruz is somewhat of a misnomer, a vehicle that sports a truck-like bed in the back and the nearly identical proportions and looks of the Hyundai Tucson compact crossover, which it is based on.
The all-new Hyundai Santa Cruz is something different, quite unique in being a surprising offering from the Hyundai brand, but one to technically compete with the likings of the Honda Ridgeline.
Honda proved that there is a viable market for a unibody "truck", if you will, with the Ridgeline. Hyundai has set out to not only captivate that market but to redefine it in some way by building off an excellent platform from the new Tucson – but do it with style and a bit of capable flare. There's something to be said about a small truck even if you pull up next to a "normal" truck and witness its towering stature beside the little Santa Cruz. Not everything has to be huge and inefficient if your trucking duties are relatively small and you don't need to tow anything over 5,000 pounds, which is the max rating for the Santa Cruz Limited if you equip it with the optional $450 towing hitch and incorporate tailer brakes on those heavy loads. Otherwise, the Santa Cruz is limited to 3,500 pounds for the front-wheel-drive SE and SEL non-turbo trims.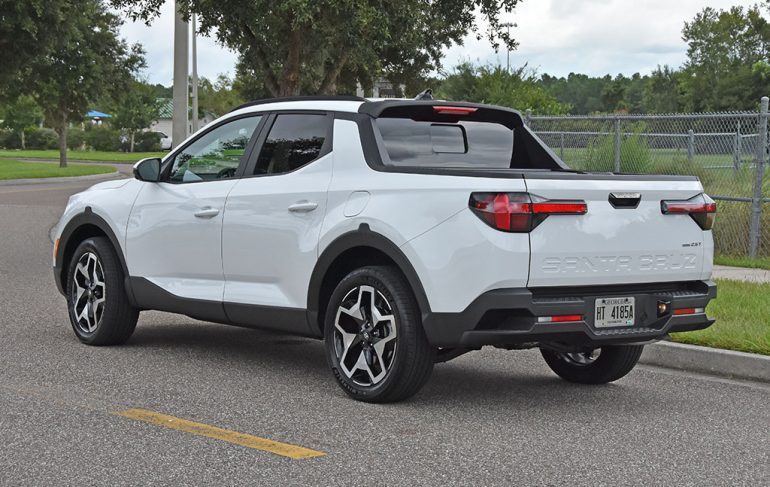 Starting with what powers the new Santa Cruz, Hyundai offers a choice of two engines that can be configured with the standard front-wheel-drive setup in lower trim levels or all-wheel-drive. The Santa Cruz is offered in four specific trim levels, SE, SEL, SEL Premium, and Limited, where the SE and SEL trims get the base engine, a 2.5-liter naturally aspirated 4-cylinder with 191 horsepower and 181 pound-feet of torque. Moving to the SEL Premium or my test vehicle's Limited trim you'll get the more desirable powertrain, a 281 horsepower and 311 pound-feet of torque turbocharged 2.5-liter 4-cylinder, which gets mated to an 8-speed wet dual-clutch automated transmission in place of the lower trim's traditional 8-speed automatic transmission.
The dual-clutch transmission paired with the eager turbocharged engine are a nice pair to get the Santa Cruz and its 4,100 pounds up to speed hitting 60 mph in 7.5 seconds. Power comes on strong from the turbocharged engine and out on the road when you're cruising above 25 mph the transmission does well to sort out the proper gearing. However, due to the nature of the dual-clutch transmission and its slipping of its clutch for initial gear engagement, slow speeds below 25 mph when you're in traffic can be a bit lumpy in power delivery and somewhat upsetting through strong deceleration. However, overall, the Santa Cruz Limited has plenty of grunt power and feels as if it would not have any issue towing a couple thousand pounds but could be taxed a bit creeping up to its 5,000-pound limit.
Fuel economy for the Santa Cruz Limited, which only comes with the H-TRAC all-wheel-drive system, is 19 mpg city, 27 mpg highway, and 22 mpg combined. Those numbers are attainable in the rear world but tend to quickly decline when you hit about 75 mph on the highway or interstate for the highway figure. You'll easily hit 27 mpg without anything in the bed or towing when you drive at or below 65 mph.
The ride quality is surprisingly excellent as the suspension does well to comfortably dampen bumps and sort out undulations. Again, siting up front you tend to forget the form factor of the Santa Cruz even if it has 20-inch wheels that may firm up the ride a bit over the standard 18-inch wheels and higher profile tires. The rear suspension even has self-leveling to aid in keeping things composed with heavier loads and towing, which is claimed to be a max payload of 1,411 pounds. Some sources may make claims of different payload numbers but to go by the good-ole door jamb number, I wouldn't push it far over 1,400 pounds to be safe. Also, 661 pounds is claimed to be the max cargo load for the short 4-foot bed of the Santa Cruz, which in the Limited trim comes with a unique lockable sliding tonneau cover and in-bed trunk. Despite being the shortest bed in truck history, the Santa Cruz' bed is quite cute and adds a new level of versatility for those who want a bit more ruggedness for their Crossover Utility Vehicle (CUV).
Speaking of CUV, the Santa Cruz is being dubbed a Sports Adventure Vehicle (SAV), which we can agree on given you have decent approach, breakover, and departure angles. However, the limitations of off-roading start and end with the tires, which are not going to do much on loose surfaces as they are Michelin Primacy all-season rubber designed for the road.
The interior of the new Santa Cruz is an inviting space that nearly mimics that of the new Tucson with a good amount of room up front. If you're ever sitting up front and trying to find the differences in the Santa Cruz and Tucson, you're going to be limited to looking at the climate control's recirculating air button, which has a Santa Cruz-truck outline icon instead of the CUV outline of the Tucson. Otherwise, the main difference starts in the rear seating area that is quite short on leg room, less than the Honda Ridgeline from my observation. The back seats, even though they are plenty wide, are compromised in leg room over the Tucson CUV due to the Santa Cruz having the truck bed in the back.
Inside of the Santa Cruz is a premium theme to the dashboard with several soft-touch surfaces and the two 10.3-inch screens, one being the digital gauge cluster and the other being the infotainment touchscreen housing a user-friendly interface coupled with USB-wired Apple CarPlay and Android Auto integration. Here, the major issue, as I said in my recent Tucson review, are the touch-capacitive radio and HVAC buttons which can be a distraction, especially when you must repeatedly press the volume button or take your eyes off the road to ensure you're pressing the right area on a glossy flat surface. A volume knob would do wonders to improve upon the interface even if the other touch-capacitive buttons were left in place.
Other highlights found in the Santa Cruz Limited, which is loaded up with several desirable amenities and features, are the heated and ventilated front seats, heated steering wheel, wireless phone charger, 360-degree camera system, blind-spot view monitors (displays live image of your blind spot in the gauge cluster when signaling), and the suite of advanced safety features (lane keeping assist, lane following assist, highway driving assist, blind-spot collision avoidance assist, forward collision-avoidance assist, rear cross-traffic collision avoidance assist, and navigation based smart cruise control).
Hyundai's embark on a new segment, one that's been helmed by the Honda Ridgeline for over 15 years, looks to have smooth sailing on the horizon as onlookers and inquiring minds took countless pictures of my Santa Cruz and even begged to ask me repeatedly what exactly I was driving. With the new Ford Maverick on its way to set sail targeting the same audience, there looks to be a vast market that the Santa Cruz is bound to capture. With a long list of features and the compliant car-like attitude that performs decently, the Santa Cruz is a uniquely wrapped affordable package that is a winner in my book for Hyundai.
My top-trimmed Santa Cruz Limited AWD test vehicle comes to a price of $41,100 including an inland freight and handling charge of $1,185. Also, buyers should keep in mind that a base Santa Cruz SE FWD starts at just $23,990 before any options or fees but is void of the more powerful engine and a long list of desirable features found on the highly desirable Santa Cruz Limited that you see here.